This calm and relaxing restaurant features organic healthy ingredients and traditional menu items (both Japanese and international). Starting with an abundant breakfast buffet, SATSUKI offers lunch and dinner courses at reasonable prices, as well as a wide selection of À la carte items. We are sure you will be satisfied with the quality of this restaurant, any time of day.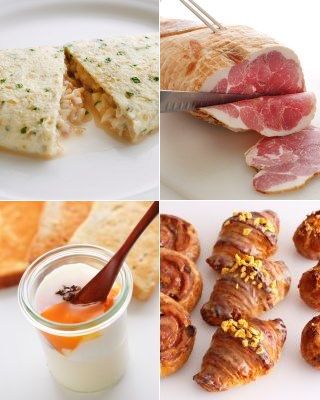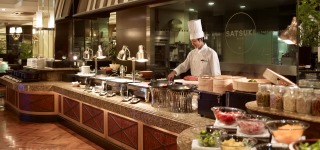 The New "Ultimate Breakfast"
7:00am-10:00am
Coffee Shop SATSUKI's breakfast buffet has been renewed to include a wider selection of wholesome yet delectable foods.
New items include breads, pastries, and a yogurt from Pierre Hermé Paris, bone-in Iberian ham, omelets made with eggs from brown-rice-fed chickens, a salad of pesticide-free vegetables produced by contract farmers, and much more. Another addition is the "yogurt bar" where you can customize your yogurt with various "superfood" toppings.
Kick off a perfect day with this nutritious and delightful breakfast buffet!
Hours
7:00am-10:00am
Price
Adults
¥5,000
Staying New Otani Club members: ¥3,500
Children (4-12 yrs)
¥2,800
---
SET MENU
7:00am-11:00pm
7:00am-11:00am
CONTINENTAL BREAKFAST
¥​​​​​​​2,600
Freshly Squeezed Juice (Orange, Grapefruit or Tomato)
Your Choice of
White Toast, Whole Wheat Toast, Rye Toast, Croissant, Muffins or Danish Pastry
Coffee, Tea or Milk
---
AMERICAN BREAKFAST
¥​​​​​​​3,600
Freshly Squeezed Juice (Orange, Grapefruit or Tomato)
2 Eggs in any style (Plain Omelette, Fried, Scrambled, Boiled or Poached)
Served with Ham, Bacon or Sausage
Your Choice of
Bread or Pastry
Coffee, Tea or Milk
Hours
7:00am-midnight
Breakfast: 7:00am-11:00am
(Breakfast Buffet: until 10:00am)
Course Lunch: 11:00am-2:00pm
Course Dinner: 5:00pm-9:00pm
Midnight Meals: 9:00pm-midnight
Seats
190
Smoking
No smoking in restaurant.
*Smoking booth located nearby.
Wi-Fi
Complimentary Wi-Fi
| | |
| --- | --- |
| Breakfast | ¥1,800 and up |
| Lunch | ¥3,000 and up |
| Dinner | ¥6,000 and up |
| A la carte | ¥1,800 and up |
| Desserts | ¥700 and up |
| Beverage | ¥800 and up (Coffee,Wine etc.) |
Subject to tax and service charge
Reservation Contacts
---
Tax and 10% service charge will be added to your bill.
Please inform us if you have any food allergies or special preferences.
The above menu is subject to change without prior notice.
Prices are subject to change during certain holiday periods and special events.