GARDEN LOUNGE
Tea & Cocktail
This open lounge stretches along the concourse joining the Main and the Tower offering breathtaking views of the Japanese Garden. À la carte items including sandwiches, pasta, soup and salads are available daily, with drinks and light meals offered during cocktail hours. Dessert lovers will be delighted with Chef Patissier Shinsuke Nakajima's seasonal collection of desserts decorated on a single plate with a pot of coffee, tea or herb tea.
Breakfast Menu (7:00am-10:00am)
Breakfast Buffet:
Adult: ¥3,500 (Staying New Otani Club members: ¥2,450)
Children (4-12yrs): ¥1,900
Juices, Coffee & Tea
Salad & Fruit
Cereals & Yogur
Eggs
Ham, Bacon & Sausages
Japanese Items
Breads & Danishes
American Breakfast:
¥3,600
Juice (Orange, Grapefruit, or Tomato)
Two Eggs (Plain Omelet, Boiled, Scrambled, or Fried) with Ham, Bacon, or Sausages
Toast, Croissant, or Danish
Coffee or Tea
A la Carte Items
FRUIT*1
Half Grapefruit
¥800
Half Papaya
¥1,200
Muskmelon Wedge (1/6)
¥1,800
CEREALS & YOGURT*1
Oatmeal
¥500
Corn Flakes
¥500
Plain Yogurt
¥500
Addition of fresh fruit
+¥800
SALAD
Morning Salad
¥1,200
EGGS
Boiled, Poached, Scrambled, or Fried Eggs or Plain Omelet
¥1,000
Spanish Omelet
¥1,200
Ham, Cheese, or Mushroom Omelet
¥1,200
Addition of ham, bacon or sausages
+¥400
Eggs Benedict (Turkey & Salmon)*3
¥2,700
BREADS, WAFFLES, etc
Hotcakes
¥800
French Toast
¥800
Waffles
¥800
Breads & Pastries
¥400
BEVERAGES
Fresh Squeezed Orange Juice*2
¥1,150
Fresh Squeezed Grapefruit Juice*2
¥1,150
Tomato Juice*1
¥1,150
Coffee*2
¥900
Tea*2
¥900
Milk*2
¥550
Cafe au Lait*2
¥950
Herbal Tea*2
¥900
*1: Available until 11am
*2: Available all day
*3: Available until 6pm. Turkey & Crab (¥2,800) , Turkey & Lobster (¥3,150) are also available after 3pm.
---
*Tax and 10% service charge will be added to your bill.
*Please inform us if you have any food allergies or special preferences.
*The above menu is subject to change without prior notice.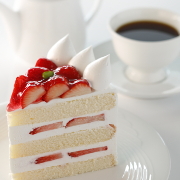 Joyful Set
¥1,900
An extra big piece of moist short cake prepared with fresh strawberries and cream served with coffee or tea.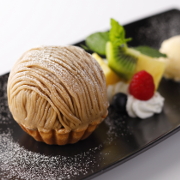 Mont Blanc Set
¥2,000
Mont Blanc (Chestnut Cream Cake) served with coffee or tea.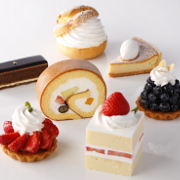 Pastry Set
¥1,800
Homemade pastry with coffee or tea.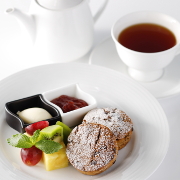 English Tea Set
¥1,800
Fresh English scones served traditionally with clotted cream and jam. Choose either Royal Blend or Darjeeling tea.
(Created with only the freshest ingredients, Pastry Chef Nakajima respects the seasons and will delight you with his original interpretations of the classic Mont Blanc)
---
Garden View Sandwiches & Desserts Buffet
Lunch Buffet "Garden View Sandwiches and Sweets"
A sumptuous buffet of sandwiches, soup, salad, pilaf, pasta, and of course, pastries and desserts. Savor the beautifully prepared tidbits while enjoying the sweeping vista of our Japanese Garden that changes with the seasons.
From 11:30am/2:00pm
| | | | | |
| --- | --- | --- | --- | --- |
| Weekdays | Adults | ¥3,300 | Children 4 to 12 years | ¥1,900 |
| Holidays | Adults | ¥3,700 | Children 4 to 12 years | ¥2,200 |
Time
6:00pm-10:00pm
Price
| | | |
| --- | --- | --- |
| Food | | ¥900 and up |
| Cocktail | | ¥900 and up |
| Wine | Glass | ¥1,600 and up |
| | Bottle | ¥3,800 and up |
Hours
11:00 - 18:00
*Offering limited menu only
Seats
200
Smoking
No smoking in restaurant.
*Smoking booth located nearby.
Wi-Fi
Complimentary Wi-Fi
Price
Breakfast Buffet: ¥3,500
Coffee Break: ¥850 and up
Sandwich Buffet: Weekdays ¥3,300、Weekends and holidays ¥3,700
Cake Set: ¥1,700 and up
Cocktails: ¥1,150 and up
*Subject to tax and service charge